Posted by Sonya on Jun 27th 2018
Grass Fed Steak One of my favorite things to do each summer is weekly trips to my local farmers markets. I love challenging myself to base our meals mostly, if not entirely, on those super fresh and local ingredients. Last week both of the markets I frequent held their opening days and on Tuesday one of the things I picked up was a big bag of mixed organic greens; Tatsoi, Mizuna, and a third Asian variety whose name escapes me at the moment. My family tends to favor romaine and baby spinach but the farmer offered me a taste of the Tatsoi and I was hooked.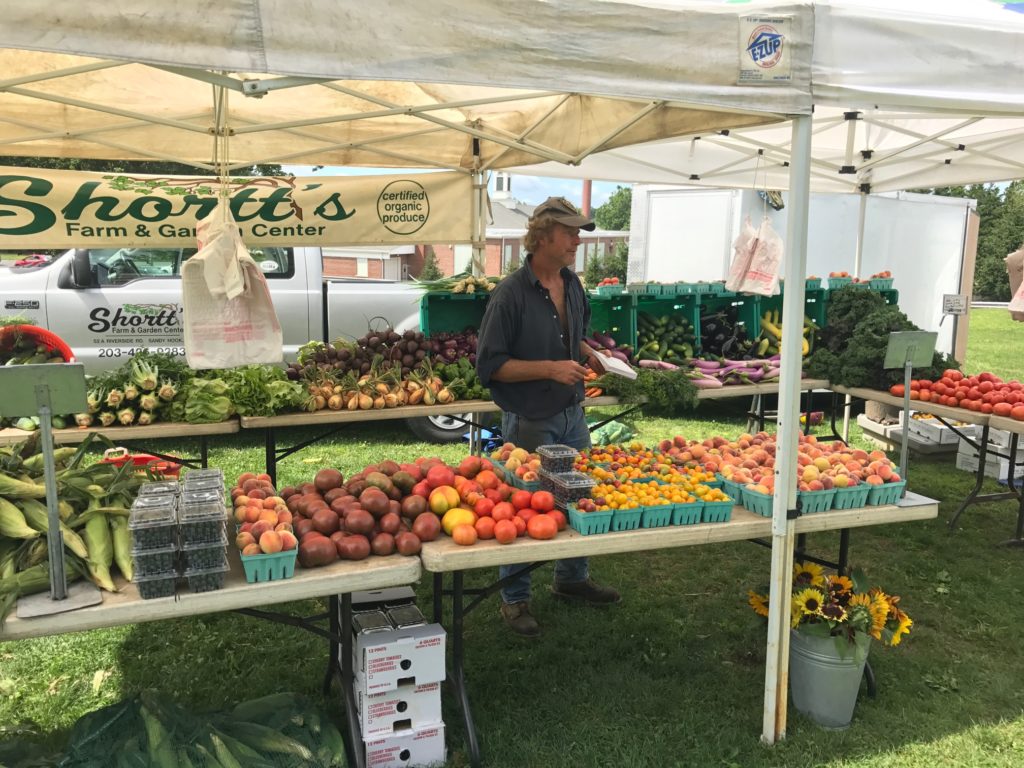 I had a grass-fed London Broil marinating in the fridge and a pint of fresh local, organic blueberries so once I returned home, I turned on the grill and set out to combine these into a delicious salad. The bite of these greens compliments the sweet blueberries and creamy feta. I added some crunch with thinly sliced celery and chopped walnuts. Since the steak was already marinating, this dinner came together pretty quickly. While it was grilling I washed and chopped the other ingredients and quickly blended up the dressing. Dinner was on the table in 30 minutes.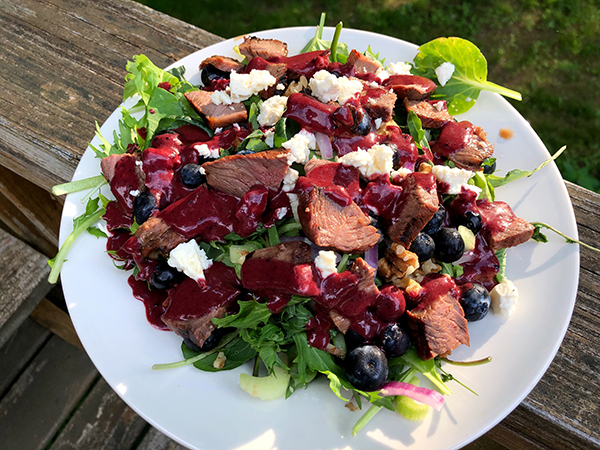 Ingredients:
1 lb London Broil (I prefer grass-fed beef from a local farm)
3 garlic cloves, chopped
2 tbsp olive oil
1/4 cup coconut aminos (or soy sauce)
Juice of one lime
1 pint blueberries, organic, divided
1⁄4 cup balsamic vinegar
1⁄4 cup extra virgin olive oil
6-8cups mixed Asian greens
2 cups celery, thinly sliced
1⁄4 cup walnuts, roughly chopped
1⁄4 cup feta cheese, crumbled
1/4 cup red onion, thinly sliced
Preparation Steps:
First, the marinated steak:
Add garlic cloves, olive oil, coconut aminos, lime juice and steak to a gallon size ziplock bag. Seal. Shake.
Marinate in fridge for 2-6 hours, flipping the bag over once or twice during marinating time. Before cooking, let meat come to room temperature.
Next the salad:
Heat grill to medium.
Remove the grass fed steak from bag and place on pre-heated grill. Cook each side for roughly 6 minutes for medium cooked (this will depend on how thick your steak is, I always keep an instant-read thermometer nearby so I can assure the desired temp.) Once cooked, take the steak off the grill and cover. Let it rest for 5 minutes then slice against the grain into thin strips. I then cut those into bite-sized chunks.
To make the dressing: In a blender or food processor, add half a cup of blueberries, the balsamic, olive oil & salt; process until combined.
Between 4 plates, evenly divide the greens, celery, cooked steak, walnuts, blueberries, onion and feta. Pour dressing over the top & finish with freshly ground pepper
Enjoy and Share this recipe with a friend :)