Posted by Pam Davis on Aug 30th 2018
It's the peak of summer vegetable season here in Connecticut and as a result, our farmers' markets are loaded with a vibrant medley of harvest fresh veggies! We've had another hot and humid week here, the kind where nobody wants to be spending much time in the kitchen. So when my amazing friend Christine came over the other day, she used lots of the fresh veggies I'd picked up at the market this week to whip us up this light, refreshing dinner. A little time chopping in the kitchen and then outside for a quick grill of the shrimp skewers. Packed with fresh summer veggies and flavorful grilled shrimp, I think it may be my favorite dinner ever! Here's a quick tip for the corn, cook a couple extra ears when you're
making fresh corn on the cob
. It'll keep for a few days in the fridge and as a result, it'll be easy to cut the cooled corn off the cob for your salsa!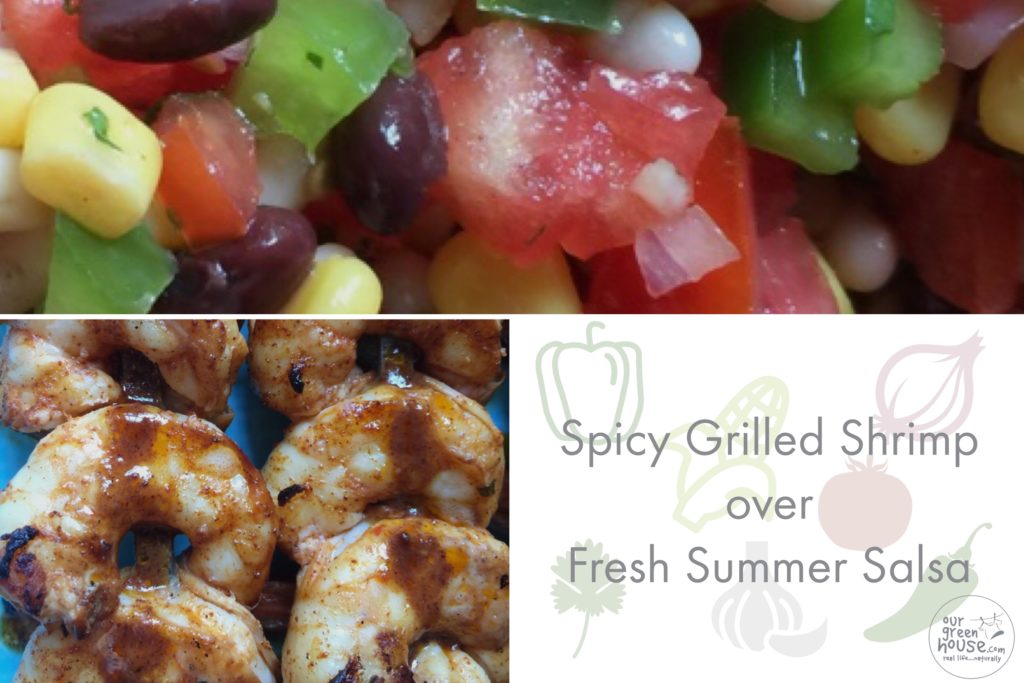 Ingredients
Shrimp Marinade:
1/2 Lime
1 tsp chili powder
1 tsp garlic powder
1 tsp sea salt
1/4 cup olive oil
2 lbs Jumbo (21-26 ct) shrimp
Salsa:
4 fresh tomatoes
1 green bell pepper
1/2 red onion
1/2 jalapeno pepper
1 clove garlic
2 ears cooked corn, cut off the cob
1 can black beans, rinsed & drained
fresh cilantro, to taste
chili powder, to taste
lime juice, to taste
salt, to taste
Accompaniments:
sour cream or plain Greek yogurt
avocado slices
lime wedge
Directions
Mix together marinade ingredients, then add the shrimp and marinate for 30 minutes. If using wooden skewers, begin soaking them in some water now also.
While the shrimp is marinating, dice your harvest fresh tomatoes, pepper, and onion.
Finely dice the jalapeno and mince the garlic.
Toss the veggies, corn, and beans into a bowl, then add cilantro, chili powder, lime juice and salt to taste/
Remove shrimp from marinade and skewer and grill over direct, medium heat until brown to bring out the flavor (3-5 minutes per side).
Finally, serve the shrimp on a bed of salsa and garnish with sour cream, avocado, and a lime wedge.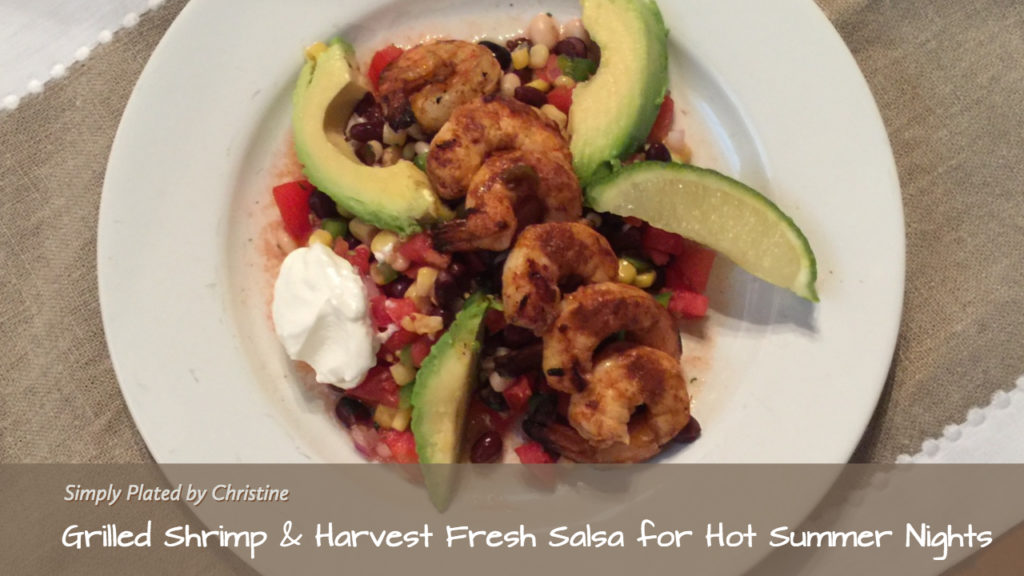 P.S.  I just love those linen placemats because they're such a great blend of rustic, yet elegant!